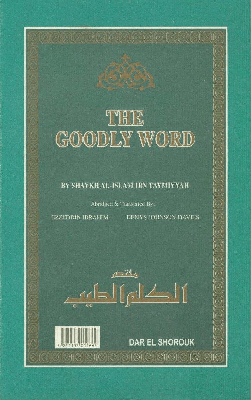 The Goodly Word
Details
Written by the renowned jurists of the fourteenth century, Taqi ad-Din Ahmad Ibn Taymiyyah, The Goodly Word is one of the most referred to works on prayer and the merits of prayer. Exclusively based on what the Prophet Muhammad himself said and did, this work includes prayers for every moment of the Muslims life. The Goodly Word is here presented in a bi-lingual edition so that the exact prayers of the Prophet can be read in the original Arabic. The translation is by two distinguished scholars who have also translated An-Nawawi's Forty Hadith and Forty Hadith Qudsi, both published by the Islamic Texts Society.
Ezzedin Ibrahim, was Vice-Chancellor of the University of the United Arab Emirates and Cultural Adviser to the President of the United Arab Emirates. He has authored numerous publications on Islamic subjects and Arabic literature.
Denys Johnson-Davies is a well-known translator, having published more than twenty-five volumes of short stories, novels and poems. Among his recent translations is Al-Ghazali on the Manners Relating to Eating, published by The Islamic Texts Society.